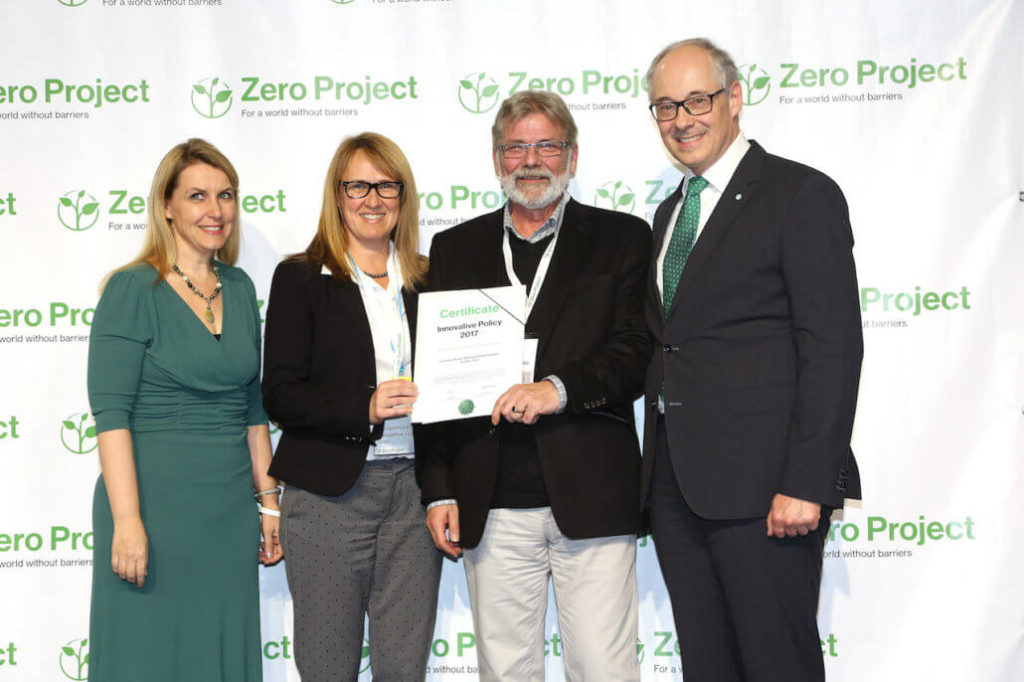 FOR IMMEDIATE RELEASE
February 24, 2017
VIENNA – Canada's Ready, Willing & Able Initiative has been awarded as an Innovative Policy on Employment, Work and Vocational Education and Training. The Award was presented by Martin Essl, Founder of the Zero Project and Alexandra Wandel, Director and Vice-Chair, Management Board, of the World Future Council, in the United Nations Office in Vienna, on the evening of February 23. Ready, Willing & Able is a national initiative of Inclusion Canada and Canadian Autism Spectrum Disorders Alliance (CASDA) and their member organizations, in partnership with the Government of Canada.
Canada's Ready, Willing & Able Initiative was highlighted at the Zero Project Conference 2017, which focused this year on disability-inclusive employment, work, and vocational education and training. The Zero Project Conference was attended by more than 500 experts from more than 70 countries, discussing innovative solutions – Innovative Practices and Policies – that support employment, decent work and meaningful vocational education and training of persons with disabilities.
Don Gallant, National Director for the Ready, Willing & Able Initiative, and Monika Bertrand, Executive Director of Employment and Social Development Canada were in Vienna to accept the award.
"We are thrilled to be honored by the Zero Project, as an Innovative Policy for 2017," said RWA National Director Don Gallant. "RWA represents Canada's first truly employer-focused, demand-driven employment model. The great success we have achieved to date is a direct reflection of the commitment by the Government of Canada to supporting innovative policy exploration, the strength of our partnerships across the country, and the dedication and efforts of the RWA delivery team."
The Award for Canada's Ready, Willing & Able Initiative is based on a selection process based on the criteria of innovation, impact and scalability, which involved more than 1,000 experts with and without disabilities from all over the world. Fifty-six Innovative Practices and 11 Innovative Policies were selected this year worldwide.
Canada's Ready, Willing & Able Initiative is also included in the Zero Project Report 2017, which can be downloaded at www.zeroproject.org.
– 30 –
For more information please contact:
Don Gallant, National Director
Ready, Willing & Able
(709) 437-1504
dgallant@nl.rogers.com