According to Inclusion Canada's 2013 Report Card, Inclusion of Canadians with intellectual disabilities, over half of people who provide informal support for an individual with an intellectual disability (family members, caregivers, friends) provide ten or more hours of support each week. Over 60% of caregivers pay hundreds or thousands of dollars a month out-of-pocket for expenses related to the support of their loved one with an intellectual disability.
The mental, emotional, and physical tax on these individuals is, in some ways, beyond description. Many caregivers experience emotional distress and poor overall health. Because of their tight schedules and lack of free time, many face social exclusion and cannot actively participate in the workforce. This is because the government does not provide the adequate supports and services required for every member of a family to live a fruitful and prosperous life.
Inclusion Canada was founded by family members who were exhausted of navigating the government's lack of services for the thousands of individuals with an intellectual disability in Canada. Families are the cornerstone of the Canadian identity, and our government is failing them. Inclusion Canada is committed to making this a priority for every Canadian.
Jason Saulnier is the parent of Marcus Saulnier. Marcus likes to jump on his trampoline, ride his bike, and play with his younger sibling, Jase, in the backyard or playground. Marcus also has Autism and requires an extensive amount of support from his parents.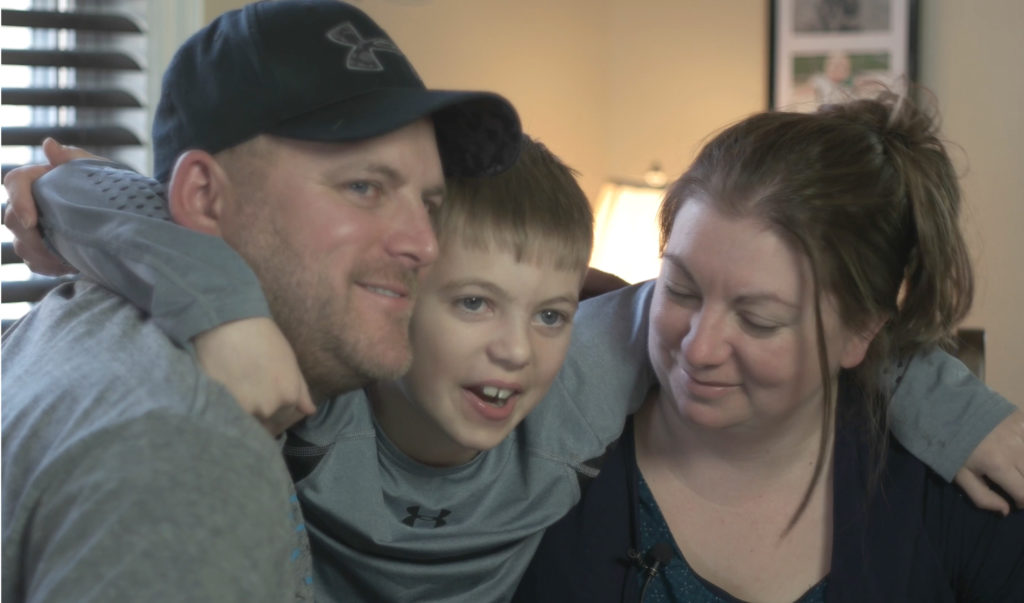 This is their story:
At home, Marcus often engages in aggressive behavior toward his mother Amanda, which has increased with age. During these episodes, Jase often has to be removed from our home. At one point, I was missing so much work I was worried I would lose my job because our home life had become unsustainable. The consensus of doctors, social workers, and many others was that Marcus should be removed from our family home.
Deep down, this didn't feel right to us. How would moving our sweet, 8-year-old son away from his home, his school, and his friends fix the situation? Why couldn't Marcus get the supports and interventions he needed in our home?
We considered withdrawing all our retirement savings to hire full-time support staff, but we knew that our savings would be quickly depleted…and then what? We had no options, and we were desperate. As we were preparing to have Marcus moved out of our home, we met with staff from our provincial Association for Community Living.
They invited us to a weekend family workshop hosted by Inclusion Canada. The weekend retreat began 2 days before we were to sign the papers to have Marcus placed in foster care. During the first day of the retreat, we met with other families of children with an intellectual disability. For the first time, we were not alone. We learned that we had rights and that there were options for Marcus that we didn't even know existed. Thanks to Inclusion Canada's guidance, Amanda and I found our voices to advocate for the supports and services our family needed.
With Inclusion Canada's help, Marcus has remained home and with our family. With adequate supports in place, I can go to work with peace of mind. Marcus now has countless positive interactions with his family, friends, and schoolmates. We are able to go on family adventures to places like the zoo or the exhibition; outings that would have been impossible before! None of this would have been possible without Inclusion Canada's guidance and passion for supporting families with children like Marcus.
Inclusion Canada helped keep our family together. We can't imagine what life would look like for us if we hadn't had the opportunity to attend the family retreat, or if we didn't have access to supports for our family made available through this vital organization and its national network.
Your financial support ensures that Inclusion Canada is able to continue offering family weekend retreats where families like the Saulniers learn that they're not alone and have advocacy support. We work with families to break down outdated attitudes towards individuals with disabilities and show them that their loved ones have the right to choose the life they want to lead.
Please donate to show people with intellectual disabilities and their families that they are valued and deserve equal rights, protection, and opportunities in safe and inclusive communities.
Your donation will engage Canadians in the fight to end injustice, discrimination, and exclusion. Give today so that families like the Saulniers can live good lives on their own terms, with the same freedom, rights, and respect as everyone else.