On November 28, 2022, Inclusion Canada and People First of Canada hosted their 13th federal policy forum on inclusion. This year's event was called Demanding Better: How the Disability Inclusion Action Plan could change the lives of people with an intellectual/developmental disability. The full day event explored the 4 pillars of Canada's Disability Inclusion Action Plan and how they impact the lives of people with an intellectual or developmental disability.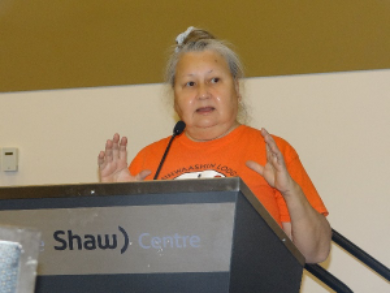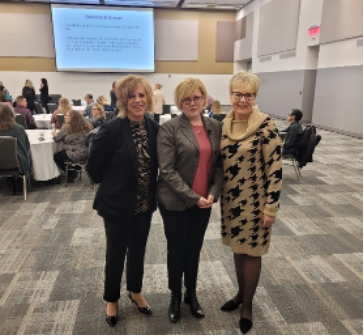 This year's event moved away from traditional lecture-style presentations. Instead, each panel was done in a more intimate, conversational way. We kicked off the day by having a chat with Minister Carla Qualtrough about the Disability Inclusion Action Plan, why it matters so much to her, and how our community can help move the Action Plan forward. She shared that the Disability Inclusion Action Plan is just the beginning, how she hopes to see each pillar evolve or expand, and more pillars added in the future. To our community, she encouraged us to keep doing what we're doing and continue unapologetically demanding that we be included.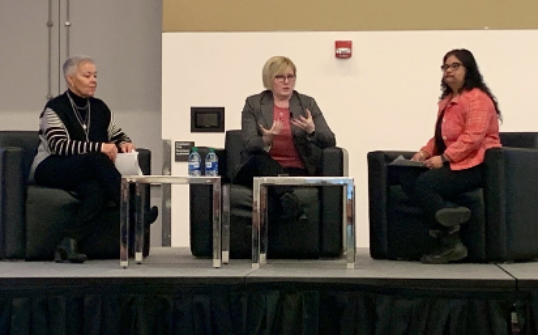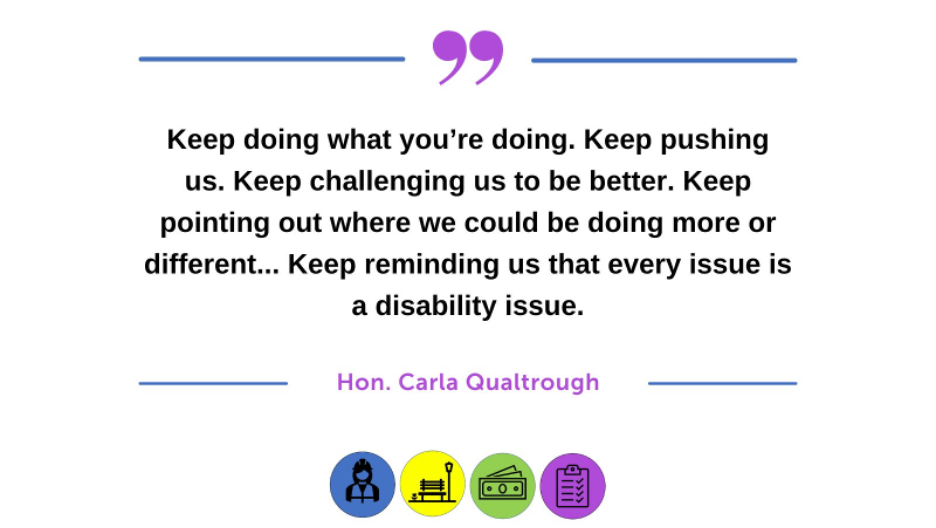 Each panel of the day was dedicated to a pillar of the Disability Inclusion Action Plan, and included self-advocates, family members, allies, and government officials.
Panel 1 Making It To the End of the Month: Financial Security talked about the Canada Disability Benefit. Christopher Rowley, 2nd Vice President of People First of Canada walked the audience through his monthly budget and how he's left with about $18.66 for food every day. He talked about the immense impact the Canada Disability Benefit would have on his life, and the security and stability he would feel. Bluesette shared, with consent, the story of her son Andrew, his lifelong dream to live in his own apartment, and how the Canada Disability Benefit could help Andrew sustain what he would call his 'best life'.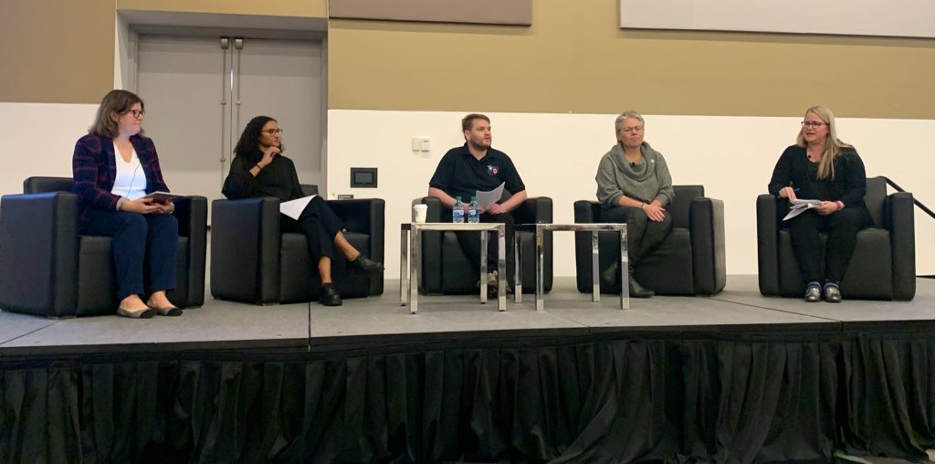 We also heard about the recent consultations about the Canada Disability Benefit, and how that information is being used. The focus of these consultations was to understand the lived experiences and the challenges of accessing current social and financial programs, and to ask for input on the design and implementation of the Benefit. Some of the big takeaways from these consultations included:
That poverty makes life challenging, not disability.
That poverty is making disability worse.
Even the best design Canada Disability Benefit will not be effective if there are barriers to accessing it.
People with disabilities just want to live their lives in the same way that others do. The Canada Disability Benefit will help make this possible.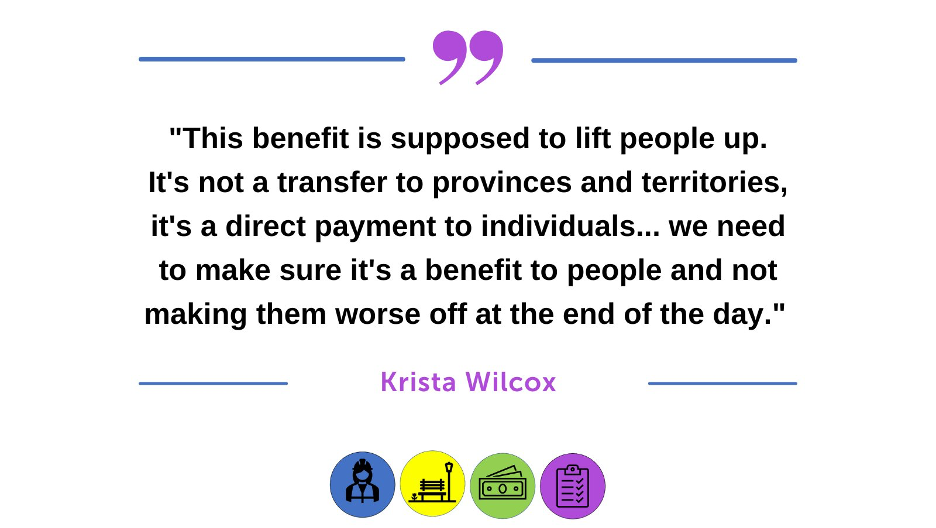 Panel 2 I'm In – Now What? Accessible & Inclusive Communities explored elements we often forget – it looked beyond the built environment at how things like communication and attitudes influence whether a space or community is accessible and inclusive.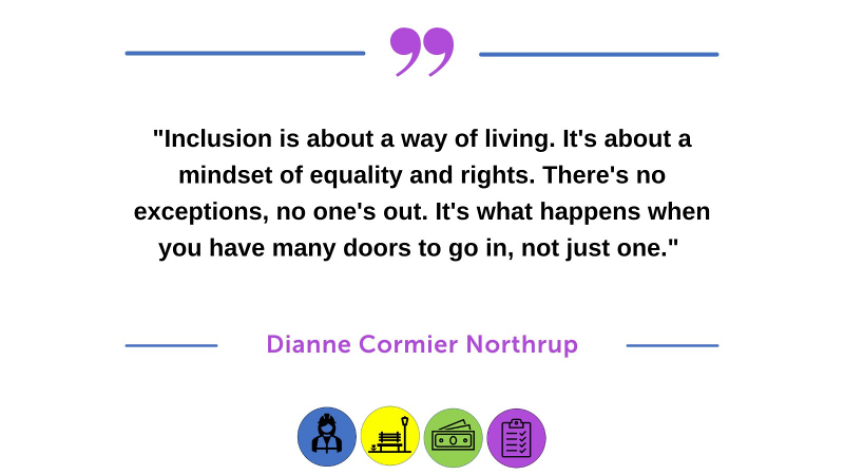 Dewlyn, President of People First of Canada, and Dianne, a parent of two adult with disabilities, discussed their experiences of exclusion, inclusion, and belonging, at school, work, and in the community. A question from the audience summarized it nicely when they commented on the inherent worth of all people – "value isn't just about doing, it's about being".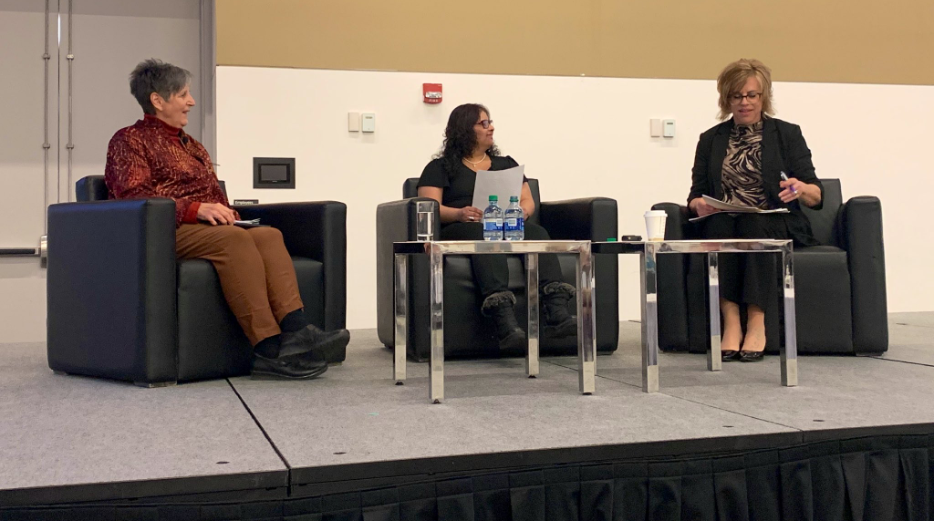 After lunch we enjoyed a virtual keynote address from Dr. Laverne Jacobs, Professor of Law at the University of Windsor, and the first Canadian to be elected as a member of the United Nations Committee on the Rights of Persons with Disabilities. She explained the job of the Committee and her role as an independent expert. Commenting on the Disability Inclusion Action Plan, she shared that it is "a step in the right direction for realizing inclusion" and highlighted the important role of people with disabilities and their representative organizations in shaping the plan and pushing for "truly transformative change".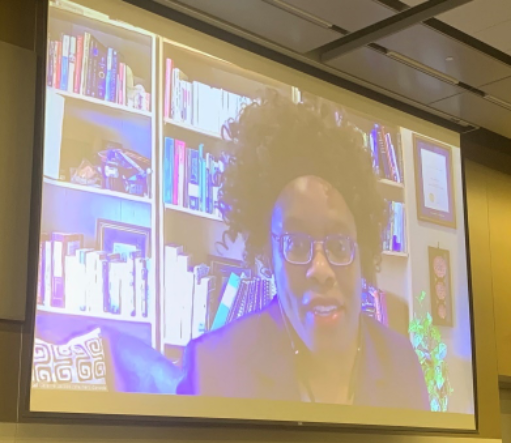 Panel 3 Employment: It's More Than a Job! talked about the importance of employment – beyond just a paycheque. It explored barriers to employment, the shift from helping people 'find jobs' to helping people 'build careers' and the important role of the federal employment strategy.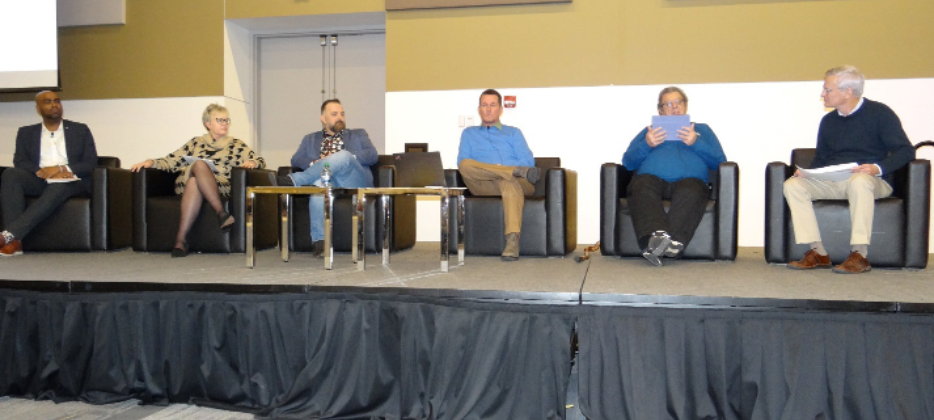 Gordon, Treasurer of People First of Canada who is now enjoying retirement, reflected on his career journey, including his experiences with sheltered work, contract work, earning enough to "keep a roof over my head and pay the bills" and what being included at work means to him.
Chris continued the conversation by sharing his son Mitchell's story. Mitchell is a business owner who collects and delivers eggs. As a parent, and CEO of Community Living Ontario, Chris talked about how the current employment framework doesn't really see Mitchell. He described the need for systems to see the person first and support that person, rather than trying to fit people into predetermined systems.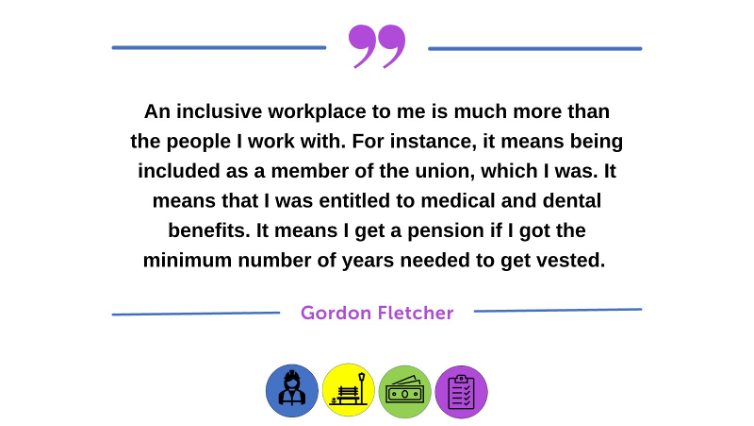 Frank, the Assistant National Director of Ready, Willing & Able highlighted the program's recent work supporting people to advance in their careers. While Krista Carr and Andrew Brown spent some time talking at the Government of Canada's development of a Federal Employment Strategy, and the essential elements our community wants to see reflected in that strategy.
Panel 4 Beyond Reach: Why Can't I Access Federal Programs & Services? wrapped up the day with a chat about how the Disability Inclusion Action Plan is changing the way the Government of Canada defines and talks about disability. The panel used the Disability Tax Credit as an example of how the Action Plan can work to make federal programs and services more inclusive and accessible for people with an intellectual disability.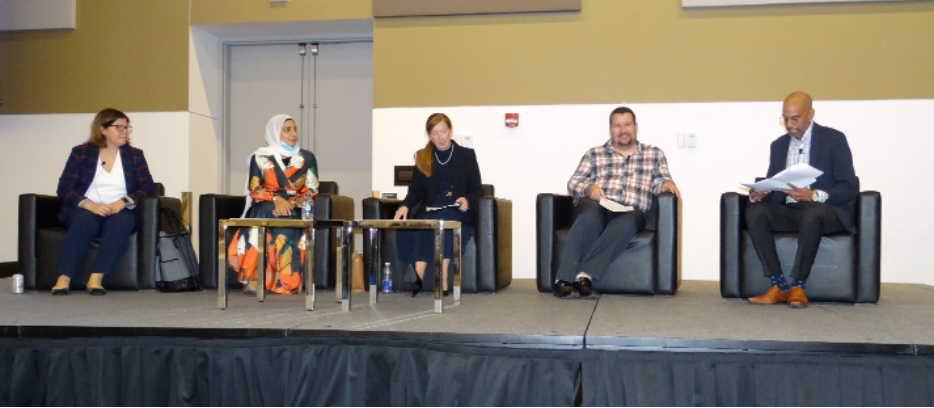 Krista Wilcox offered a glimpse into the work being done internally by the Government of Canada to address stigma and modernize its approach to programs and policies related to disability. She highlighted the importance of people with disabilities being involved in program design, and the way in which this work touches every part of government.
Sharon, Co-Chair of the Disability Advisory Committee, described the work of the Committee, and some of its recommendations for the Disability Tax Credit (DTC). She also touched on improvements and ongoing barriers she sees with the DTC.
Kory, Past President of People First of Canada described his experience of trying to apply for the Disability Tax Credit, the barriers he has faced, and why he think it's so hard for people with an intellectual disability to get approved for the DTC.
Sujata Verma, Director General of the Disability, Indigenous, and Benefits Outreach Services Directorate shared some recent changes that aim to make accessing the Disability Tax Credit easier for people with a disability.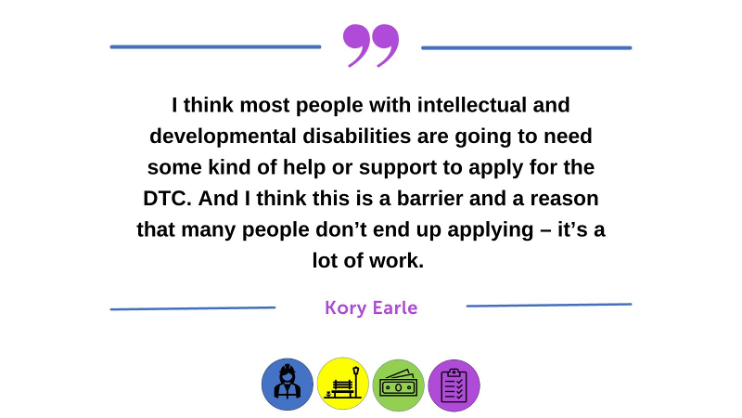 Inclusion Canada and People First of Canada are so grateful to all the people who contributed their time and expertise to make this event possible. Thank you to everyone for engaging in this dialogue with us, we're going to "keep doing what we're doing", together we can make real change.