February is National Inclusive Education Month. Considering this, we have put together resources and information from Inclusive Education Canada (IEC), highlighting recent and future work towards quality education for all students in inclusive schools and classrooms across Canada.
Webinars
IEC launched a webinar series in the fall of 2020, beginning with three webinars delivered in October, November and December. We had over 140 attendees tune in to hear about the challenges of inclusion in the COVID-19 era, parents' challenges to keep their children included, and the future of inclusivity in Ontario schools. These webinars have been recorded and are available on the IEC website:
o Perspectives on the unique challenges of inclusion in the COVID-19 era – moderated by Robin Acton, President, Inclusion Canada.
o Parents Speak Out: Keeping Our Children Included and Learning – moderated by Jess Whitley, Associate Professor, University of Ottawa
o Will Ontario Schools Ever Be Inclusive? Moderated by Diane Richler, Former Executive Vice-President, Inclusion Canada; chair, Catalyst on Inclusive Education, Inclusion International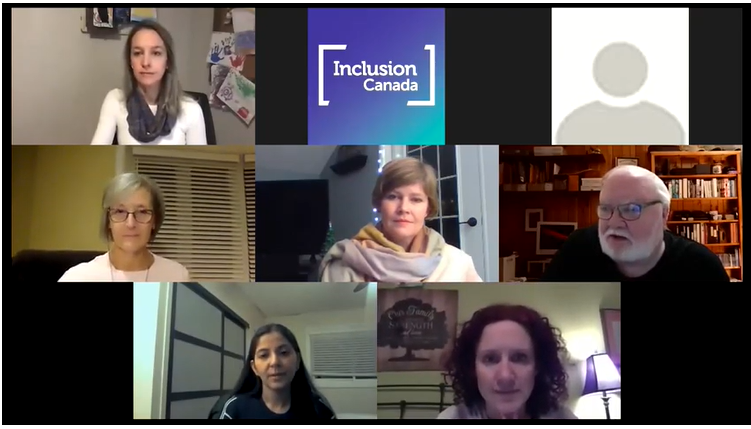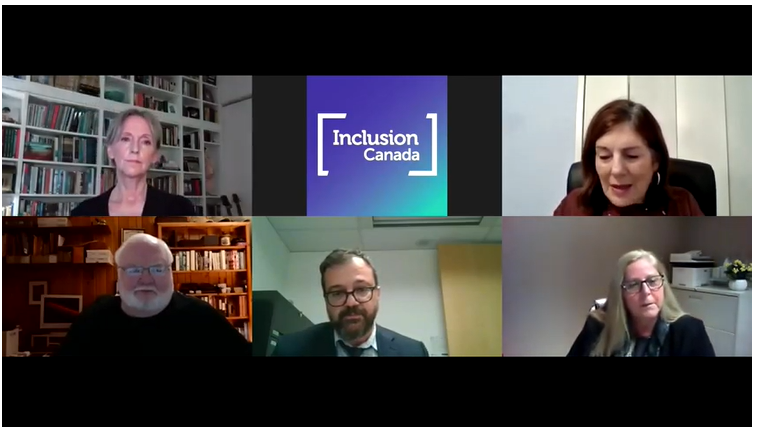 Photos from the Parents Speak Out: Keeping Out Children Included and Learning webinar (left) and Will Ontario Schools Ever Be Inclusive? webinar (right).
The webinar on inclusive schooling during the pandemic provided expert perspectives on the unique challenges of inclusive education in the COVID-19 era. The associates discussed ideas on safe use of personal protocols, partial attendance, distance learning, and more.
While some schools are working to be inclusive, far too many are not according to panelists in the "Will Ontario schools ever be inclusive?" webinar, Diane Richler, former Executive Vice-President of Inclusion Canada, moderated the virtual conversation between our three panelists, posing several valuable questions.
Richler stated that special schools and classes still exist, meaning students with disabilities are invisible to society. As Sheila Bennett, Professor and Associate Dean at Brock University, added, "we are denying these students access to curriculum, and to social capital". The panelists described several factors that have impeded the development of inclusion in the Ontario education system.
"There is a segregation mindset in the systems that we are sending new teachers in to. We need to start thinking about the school environment as a place to learn how to be an adult and be functional and engage in a larger world", observed Professor Bennett.
Kimberley Gavan, Executive Director of Brockville and District Association for Community Involvement, was hopeful. "The resources are there, the opportunity is there, and the will is there. We must build more collaborative relationships", she said. Having a national strategy on inclusive education, in line with the United Nations Convention on the Rights of Persons with Disabilities (UNCRPD), is a key component to ensuring Ontario schools are inclusive according to Robert Lattanzio, Executive Director at ARCH Disability Law Centre.
Helping families to become more active in their child's education, seeking allies in educators, and resisting the use of disability language to describe a child are crucial to ensure that every child is included in school. "People don't want 'special'. They want regular and ordinary. We can support people to have regular and ordinary-ups, downs, failures, and successes", says Gavan.
IEC Associates
One of our greatest resources at IEC is our incredible group of associates who support our work. We have more than 25 dedicated teachers, parents, educational leaders, and researchers across Canada who share similar goals. In October, we had two Dialogue Sessions with our associates, resulting in a list of 9 priority areas that we plan to be the focus of our work over the next several years.
The priority areas we identified are as follows:
1. Support for families on education and inclusion issues.
2. Develop and disseminate a policy template for compliance with the requirements of Article 24 of the CRPD.
3. Teacher capacity building: knowledge and skills.
4. Strengthening leadership for inclusion: families; teachers; school leaders; policy makers.
5. Address issues about 'accommodation' both legal and pedagogical.
6. Focus on school exclusion and identify actions to diminish it.
7. Strengthening inclusion in early learning programs.
8. Ensuring equity for all students in the use of assistive technology and distance learning.
9. Focusing on "student voice' – relevant to inclusion.
View the full list of our associates here.
Inclusive Education in Montessori Education
Since 2018, IEC Director Gordon Porter has been involved in a joint project with Brock University and Community Living Ontario to strengthen inclusive education in partnership with the Sudbury Montessori School. Montessori education is centered around a uniquely designed learning environment that enables children to develop and learn naturally though spontaneous, self-directed activities. The classroom is designed to be a joyful place where the child's love of learning can flourish in a carefully prepared, stimulating environment. Some of the goals of the project include:
· Developing strategies for parent education in the benefits of enriching their children's lives to be in an inclusive environment with exceptional children.
· Examining each area of the Montessori environment.
· Developing strategies for exceptional children.
· Training of staff on inclusiveness.
International Work
IEC has worked on several projects with international inclusive education partners and allies recently as well. Director Gordon Porter co-authored a chapter on inclusive education in New Brunswick with two colleagues from universities in Spain for a book edited by scholars in Germany.
Gordon also recorded a webinar for RREI, an agency promoting inclusive education in several countries in Latin America. It will be used in a course in early 2021, which will be available on their website.
A pamphlet on inclusive education for teachers was published by IEC in January 2021, titled Teachers as Leaders: Achieving Inclusive & Quality Education For All. Authored by Gloria Sierra (Colombia), David Towell (UK), and Gordon Porter (Canada), it is available in both English and Spanish.
Upcoming Work
Over the next few months, IEC will continue to host monthly webinars on various topics related to inclusive education; these will be promoted through our Facebook page. We have also recently established a partnership with the Canadian Council of Montessori Administrators for future work on inclusion issues.
Beyond this, you can access existing resources for teachers, parents, and allies and information in French at our website or by connecting with us on Facebook or Twitter.