From September 2019 to March 2021, Inclusion Canada and IRIS worked on a project to support people with intellectual, cognitive, psychosocial, and mental health disabilities to have greater choice, power, and control in their lives. The project worked with self-advocates, families, government officials, indigenous community members, and many others to identify barriers to legal capacity within our current system. Then together, we developed practical tools that can be used by individuals and communities to support personal choice and decision-making. Through a series of four blogs, we'll introduce you to these practical tools and how you can get involved.
Our first tool is designed to help you understand the 'equal right to decide' and why it matters. It explores what it means to make personal decisions and ways to support this process. It offers information about how community members can organize to provide people with disabilities decision-making support in their lives. Finally, it invites you to plan the ways you will participate in supporting people to exercise power over personal life decisions.
My Life, My Decisions is a 6-hour facilitated course that can be divided into three in-person or online. It was created for 3 main audiences:
People with disabilities, their families and supporters, and Disabled Persons Organizations (DPOs) working for inclusion and human rights
Providers of Supports and Services to persons with disabilities
Allied community-based organizations and service providers.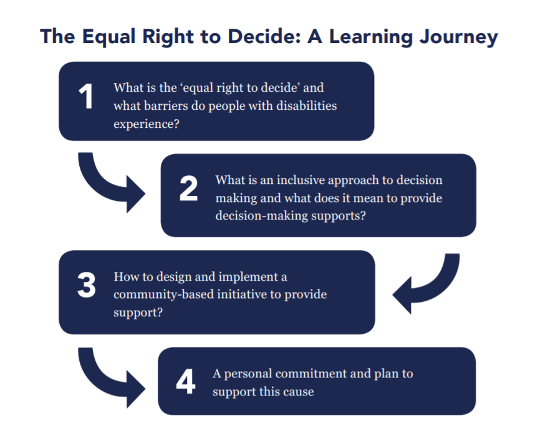 Following the 4-step learning journey, the course will answer questions like:
What is the 'equal right to decide'?
What barriers do people with disabilities face?
What does an inclusive approach to decision making look like?
What are decision making supports?
How do we design and implement a community-based initiative to provide supports?
Where do I fit in the process? What role can I play in supporting people to exercise their equal right to decide?
The course is an excellent starting point whether you're new to supporting people with disabilities to make decisions or have years of experience.
If you are interested in participating in or hosting this course in your community, reach out to IRIS at contact@irisinstitute.ca or to Inclusion Canada at inform@inclusioncanada.ca .
In the coming months we will showcase our other new legal capacity tools. In the meantime, you can access the other tools at Legal Capacity – Inclusion Canada .