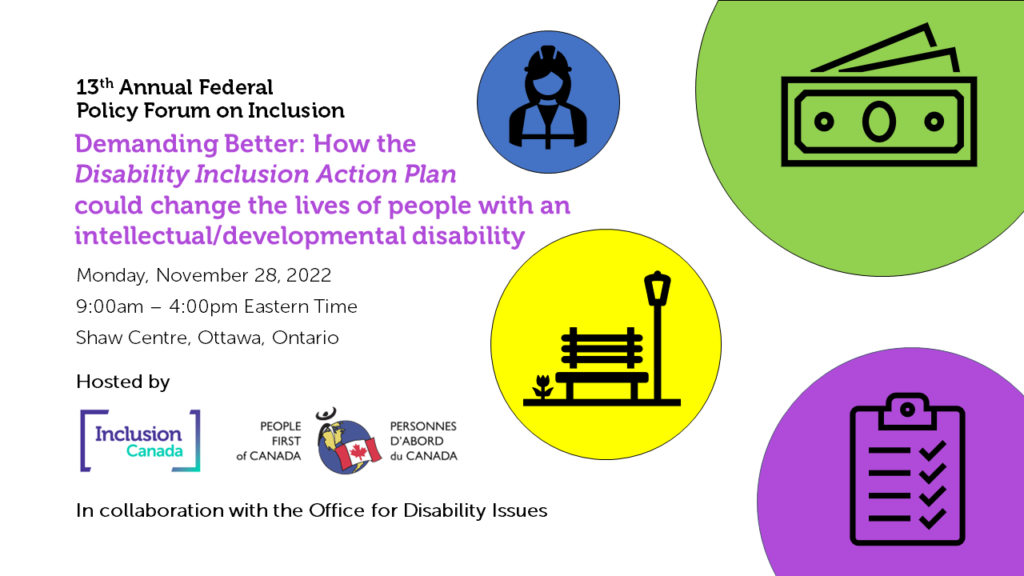 Hosted by Inclusion Canada & People First of Canada in collaboration with Office for Disability Issues, Employment and Social Development Canada
November 28th, 2022 – Shaw Centre, Ottawa, Ontario (in-person event)
Canada's federal government is working on our country's first Disability Inclusion Action Plan. The Plan's 4 pillars explore areas that deeply impact the lives of people with disabilities:
• Financial Security
• Employment
• Disability-inclusive Spaces
• A Modern Approach to Disability
This year's policy forum will explore the Disability Inclusion Action Plan through the lens of people with an intellectual disability, their families, and allies. As a community, we'll discuss what is happening now, and what we want to see happen. Our goal is to have our voices heard and reflected in the Plan.
Format: The forum will include a series of panels and interactive Question & Answer periods. Panels include perspectives of lived experience from people with an intellectual disability and families, as well as research and policy expertise from both government and community.
This year we are excited to return to hosting our annual Federal Policy Forum on Inclusion in-person, in Ottawa! If you require accessibility accommodations for this event, or have dietary restrictions, please fill out our Accessibility & Accommodations Form no later than November 21, 2022. If you need support to fill out the form, please call Rachel Mills at 1-855-661-9611 ext. 230
Event Pricing: Inclusion Canada and People First of Canada want all our events to be inclusive and accessible. We want to remove barriers so everybody can attend and take part.
In order to do this, we have different prices on our tickets. This allows people to pay what they can. But it also allows people to pay more. This can cover some of the cost for another person to attend. This is one way we can help to make things more equal. This is one way we can address the financial barriers that people with disabilities face.
Please look at the following options and pick the one that meets your needs.
Pay It Forward Ticket $100 – This option covers your cost to attend and helps others to attend.
Standard Ticket $75 – This option covers the standard cost for you to attend the event.
Equity Ticket $25 – This option recognizes and values your input into the event.
Barrier Zero Ticket $0 – Please contact us at forum@inclusioncanada.ca for a Barrier Zero Ticket.
Highlight Agenda – more details on speakers to come!
9:00am Land Acknowledgment & Opening Remarks
9:15am Fireside Chat with the Hon. Carla Qualtrough, Minister of Employment, Workforce Development and Disability Inclusion
9:35am Panel 1: Making It To the End of the Month: Financial Security
10:45am Break
11:05 Panel 2: I'm In – Now What? Accessible & Inclusive Communities
11:45am Lunch
12:45pm Keynote Address: Dr. Laverne Jacobs, Professor of Law, University of Windsor and Member of the United Nations Committee on the Rights of Persons with Disabilities (2023-2026)
1:05pm Panel 3: Employment: It's More Than a Job!
2:15pm Break
2:35pm Panel 4: Beyond Reach: Why Can't I Access Federal Programs & Services?
3:45pm Summary and Closing
All times are in Eastern Daylight Time (EDT). The forum will be held in English. ASL and virtual CART captioning services will be available. For questions about this event, please contact: forum@inclusioncanada.ca
---
Event Info Sheet: Please click here for all you need to know to prepare for and attend the Policy Forum.
Level-2-Map